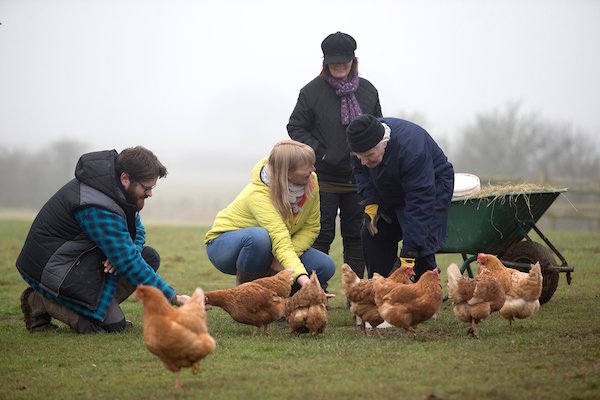 Farms are getting serious about diversifying their businesses as the vagaries of Brexit will impact upon the security of subsidies. Of course farming has always been vulnerable to seasonal extremes which clearly affect the viability of crops and feed prices. Memories of the Foot and Mouth Crisis still abound in farming communities. Sustaining a workforce to continue farming by encouraging and training younger people is key to the succession of many farms. These younger enthusiastic people are the future of  farming as many of their peers will seek work in areas where the pay is more secure and the demands less. Likewise  enthusiastic younger people will be essential for ensuring the development of dementia care. Both will seek to demonstrate innovative practices and extend our current knowledge in the their respective fields of interest and expertise. Can this expertise be shared as part of collaborative endeavour?
Tourism has always been an arm of the farming community which brings regular money and helps to promote/maintain the beautiful countryside in Britain. This tends to be seasonal with peaks in the spring/summer months. Camp sites, Bed and Breakfast, self-catering  and even helping out on a working farm are all ways of meeting the tourist trade. Closer to home though farms are starting to consider other ways of securing regular incomes and helping their local communities. Whilst care farms may not suit every farmer they can provide an alternative to the more traditional ways of diversification.
Care Farms are one such model. Care Farms are basically parred down farms which home a variety of animals in a contained area of land to promote well-being among people who may be isolated and who wish to connect with nature, others or simply take time out. Many of these farms encourage people with mental health needs, learning difficulties, care givers, and others to contribute to the farming life. More recently people with dementia have started to experience care farms. In short care farms provide meaningful work based activity which promotes a sense of well-being. It's a win win win. For the animals, people with dementia and the family care givers. The animals are often "rescue" animals who would otherwise be ending their days in confined conditions or worse. Ex-battery hens, discarded goats, elderly ponies, donkeys, and odd ball sheep all enjoy a life of pampering and luxury for the remainder of their days. The type and breed of animal is important since they have to be inherently happy to be pampered and showered with care by many eager hands. Savvy care farms also build up a high value herd of sheep or more exotic Alpacas to help pay for the ongoing costs of the upkeep.
People who attend experience the opportunity to make connections with others, animals, the land and the landscape. Being outdoors boosts not only vitamin D levels (far more effectively than any supplement), but builds muscles, balance and a sense of being connected in the present. We all need to feel useful; it's part of being human. Time is not pressured which means that if a person with dementia wishes to spend several hours pottering around  feeding the animals then they can. Meaningful work knows few time boundaries on a care farm. This contrasts with the persistent pace of a working farm where time is pressed beyond compare. Likewise we find many of the more formal settings for people with dementia are similarly time pressed and in the light of often poor staffing task orientated care may dominate. Dementia becomes no barrier to engaging in the everyday and in the present.
Family care givers are blessed with the knowledge that they have a guaranteed break from caring of around 8 hours. Currently other forms of respite care can be cancelled at the last minute because of more urgent admissions which leads to giving up by the carers and low expectations of any real respite. However Care Farms are only exposed to the whim of extreme weather and would rarely close because of this. Family Care givers understand challenging weather and can adapt to this. For the care givers the options of regular respite provide opportunities for doing something else; they can return to employment, catch up on sleep, meet their family and generally do whatever they wish to do. Their loved one is occupied all day and the care giver has no need to worry about having to get everything done in a few hours.
So what about the business case? Well such an endeavour cannot run on thin air as clearly there are staff costs, animal feeds and so on to meet. Good quality care requires qualified people and so despite many managing on the donations of generous benefactors, longer term plans rely upon regular funding. However there is a case for several sources of funding from agricultural, rural and health organisations to support this by considering these ventures as multi functional; they are doing/providing more than one thing. In short they provide social value (this is also a new buzz word), maintain the local heritage, rural environment,  local economic value, and so on. As such the current funding mechanisms are often inflexible to support multiple collaborative sources of funding. This has to change as the debate about is care farming NHS, Social services and so on has to be adapted to match the reality of multi functionality. Care Farms, by their very nature, do not fit into the current frameworks for tendering and funding which curtails their potential. In short care farms can develop into hubs for the community to engage in ways beyond therapy. Perhaps this is one of the ultimate models for rural dementia friendly communities? We can't afford to miss the opportunity for supporting the potential of care farms as one of the most effective ways to deliver meaningful care within rural communities.